I've decided I'm going to change my usual approach…normally when creating sites, be it CB sites or Hubpages, I would just try and bust out as many as I could per day and would focus more on quantity over quality…
Now since each of these adsense sniper site's done in the way John goes over requires some work writing articles for backlinking, I want to ensure that pretty much every one of my sites is successful.  So I've decided to become far more picky and spend significantly more time looking for the perfect keywords to go after.
This means that on my heavy research days I won't have as much quantifyable work done here to report, so things won't be as interesting for you guys, but hopefully being extra picky here with these next few adsense snipers is going to pay off…
I noticed when doing my research that there were plenty of other people running with XFactor's program as I found several sites with the same theme during my keyword research….and this was keyword research into niches that he didn't even mention in his book.
Aside from that, I did see the odd automatic Amazon site which the Niche Market Ninja teaches…
Well, aside from research, today I also submitted 18 Ezine Articles for some of my Adsense Sniper Sites….I still have 30 to post up which I'll likely end up doing tomorrow.
Earnings For Today:
$105.07 – 4 sniper site sales
Hops = 374(new) / 730 (old analytics) …This is a new high in hops for me according to the old analytics
Adsense = $5.92
I've earned the most I've ever earned in a week this past week…$678.45: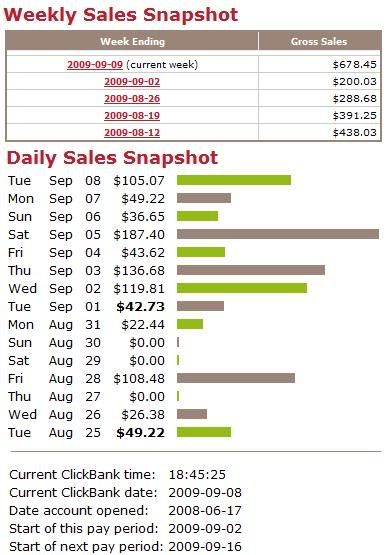 -Mike
Mail this post