Holy……
I still can't believe it.
OK.
I had been writing up 30 articles a day for the last 2 days as you know and submitting them to Ezines.  What I found is that apparently the more articles you submit in 1 go the faster they get accepted or something, because each of those batches of 30 articles basically went live the same day or the very next day..
What I did with those 60 articles in total was link back to about 15 of my adsense snipers, spreading it out among the main page as well as the inner pages.
With 2 links per article, I was aiming to have 12 backlinks to the main domain and 3 backlinks each the the inner pages.  I haven't gotten that done for all of them as of yet, but the plan is to get that base level of advertising done then add even more article backlinks once I have that solid base setup..
As you know my income from adsense has usually been around $5-10/day and that yesterday I went up to $19.93, have a look at this (click image for larger version):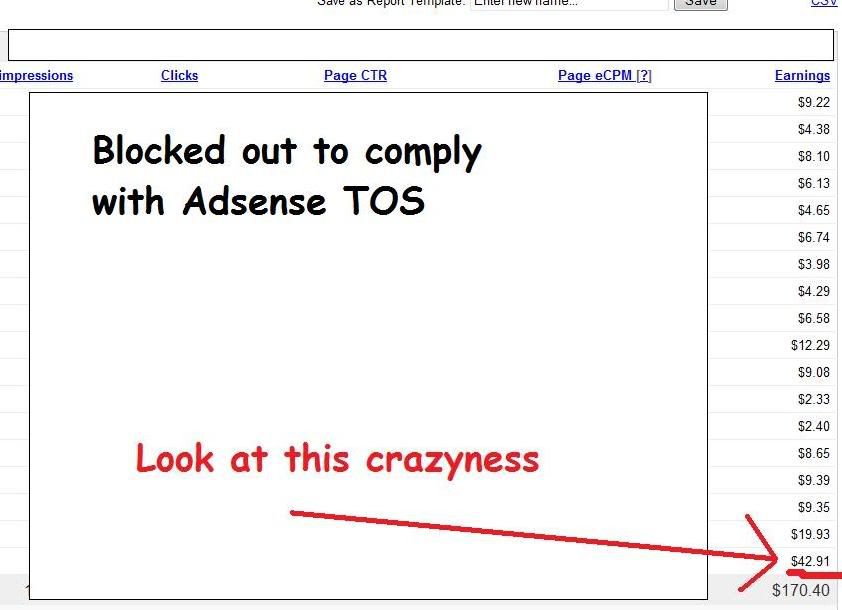 I was going nuts!!!
I couldn't even concentrate enough to get my 30 articles for today written, I was refreshing my adsense account every 5 minutes!
I checked my Ezine Articles to see if maybe it was referred Ezine clicks, but out of all these 60 articles, I only got 8 clicks through to my websites which is not even close to accounting for this.
It seems as if the rankings for my sites and internal sites went up and I got a surge of traffic due to all these high PR Ezine backlinks!
I just started with this whole XFactor method a little over 2 weeks ago, Sept 12th and only made 15 or so sites, I can't believe I'm seeing these kinds of results at this point!  Hopefully this new income level continues…
Now that I made this huge chunk of money, I've changed my priorities…I want to play it a bit safe here and flesh out some of my existing sites beyond 5 keywords and make additional pages for them.  I'm only going to be doing it for the domains that I created that didn't target a product keyword domain though(ex: I'll develop additional pages for a site like electricshavers.com instead of braunshavers.com), the reason for this is you never know if some sort of copyright problem will arise with the latter domain.
As far as what I did today, I got 30 more articles written and I submitted the 30 articles I had written from yesterday.  I'll probably take a break from the promotion soon though to build up the additional pages.
Earnings For Today:
CB = $63.03 – 3 CB sales, none for the troublesome product though…I'm getting the feeling that it is the new sales page after all and that the new one isn't converting as well
Hops = 269(new) / 545(old)
Adsense = $42.91
Total = $105.94
-Mike
Mail this post