Day 514 – End Of September Totals

Epic..
This past month my adsense revenue has continued to go up without me doing anything… I noticed that recently my main adsense account has been having $100+ days again, the last time that happened was before Mayday, back in May.  Here are a few screenshots to show you what I'm seeing(images cropped to fit on screen):
My main adsense acct in August:

Acct in September: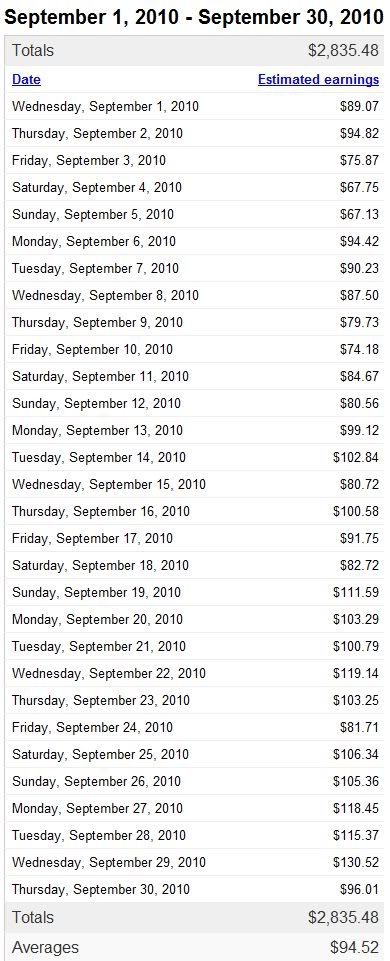 As you can see, around the middle of September, it began breaking $100 again after not having done it for a little over 3 months.. It's gone from a $70 avg to $94, almost a $15 increase..probably a bit more considering the change happened mid Sept…my avg from Sept 14th – 30th was $102.97.
This isn't my full adsense earnings for this month as well…my total adsense earnings for the month of Sept was actually $3,321.69…pretty close to my highest adsense month which was $3,563.67 in March.
Here's a full breakdown of the September earnings:
Adsense = $3,321.69 (up $721.40 from last month's $2,600.29)
CB Hops = 4,903 (down from 7,095 last month)
CB Gross = $627.45 (down from $896.09 last month)
CB Refunds = 1 ($16.61)
CB Net = $601.07
9 UAW Sales = $187.60
2 BLS Sales = $58.20
Ebay = $16.26CAN = $15.77 US
Grand Total = $4,184.33 (up $395.07 from $3,789.26 last month)
-Mike
Mail this post