Day 496 – A Look At My Adsense Income Increase + Shopping Next To TIFF
Hey guys,
As I mentioned in the previous post's comments section, I have recently noticed another increase in adsense revenue..  It started funnily enough on my birthday, Aug 29th, and is carrying on steadily…
The increase is about $16/day.  I obviously can't go into specifics about what I'm seeing, what I can say though is that while there has been a slight increase in impressions, it is mainly the clicks and eCPM which is causing this.
I haven't really done anything to bring this about, but I can see that a good chunk of this increase is coming from a few of my main/bigger sites performing better..The reason?  While I have been adding a few pages to my sites here and there, I didn't add any to these sites which are bringing in more money so it could be due to the sites just aging, however that's just a guess.
I'm not too interested in finding out the cause as regardless of what it is, it won't change my approach/plan of action when I go full on into my business again, which is just to continuously add more content to my sites then backlink as many of the new pages as I can.  I like to keep things simple.
Here's a look at the incrase in income in screenshots (I cut and pasted them from these 2 images here and here, so that they'd fit on the blog):
August 15th – August 28th (2 weeks before the increase)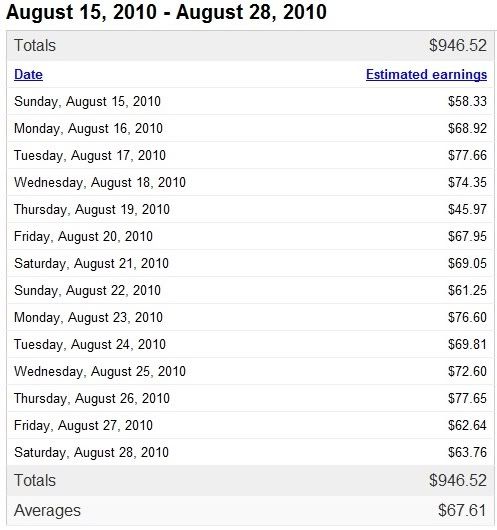 August 29th – September 11th(2 weeks after the increase)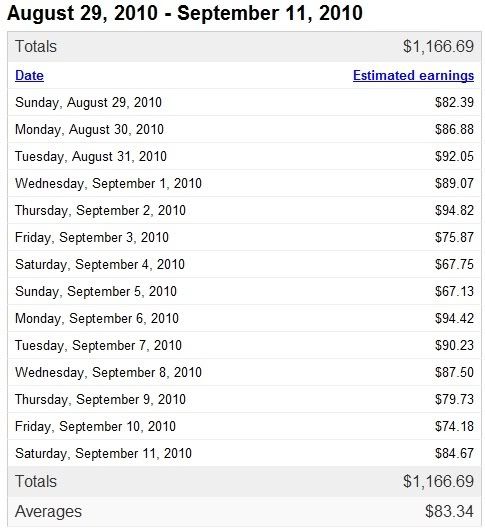 As you can see there has been an increase of about $16…However this isn't ALL the adsense money I've been making.
You see one thing I've alluded to in the past but never officially stated was that I do have another adsense account under a separate legal entity…I never mentioned it before for a few reasons, partly because I wasn't comfortable talking about such a matter, also partly because I didn't want my blog to become a place to discuss/explain the process of setting up additional adsense accounts.
For those who don't know, it is within the TOS to have 2 adsense accounts PROVIDED they are under 2 separate legal entities (ex: a Corporation and under your name, or under 2 corporations)… you can't setup 2 under the same name though.
This other adsense account at the moment brings on average an additional $14/day so really my income has gone from $81/day to $97/day…not bad considering at my peak I was making $100-120/day.
BTW on another topic, here in Toronto, there is The International Film Festival(TIFF) going on..lots of stars are here, Edward Norton, Zack Galifianakis, Ben Affleck, Bill Murray, Mickey Rourke…I overheard some girls mentioning they saw "Fox" and how small she was, I'm guessing Megan Fox too, among others…
I was just downtown doing some shopping, updating my wardrobe and I saw this barricade, a mob of people and police officers… I had no idea this was going on!  I just wanted to get into this store, 'Style Exchange' and had to ASK to be let in as it was next door to some theater where all these stars apparently were headed.   I didn't see anyone I recognized, but when I was trying to figure out what was going on, I remember seeing some guy waving in my general direction(I was walking behind the mob) as if he was someone of import.
I'm not one to be into this stuff, but just cool to know that's going on in the neighborhood :>
Oh and about the clothes, I'm usually the type who's really into dressing up nice, but got lazy about it since getting into IM…This past week or so I think I accrued 23 new casual dress shirts/t-shirts (Affliction/Guess/Buffalo/Le Chateau), 5 new jeans(Diesel/Parasuco/Buffalo/Guess), 2 new shoes (Jo Ghost) and 3 new jackets (Buffalo/Guess/Firetrap).  I tend to like getting stuff that is unique looking, thing is this stuff all ends up being damn expensive!
-Mike
Mail this post