Day 344 – Adsense Sniper #206

LOL @ 1:34
Another adsense sniper up..
Again the last 30 odd sites seem to be performing at around the $15 level today, seems like the latest batch of sites are at a new level, it helps to pick up the slack from the older sites, which should be getting a boost from the upcoming UAW runs.
Today I had a crazy Clickbank day, haven't seen days like this in a while: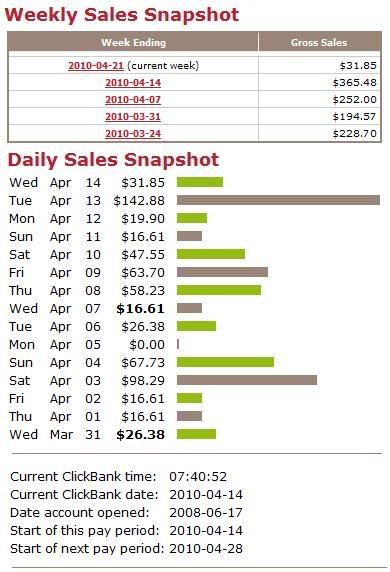 $142.88 on the 13th from 5 Clickbank sniper sites and 1 of my authority sites, nice.. I took this ss in the following morning, hence the $31 sale after(day's not over yet)..
Earnings For Today:
CB = $142.88
Adsense = $122.57
Total = $265.45
-Mike
Mail this post