Day 29 – It's Over 500!
Today I had some job related business to take care of, nevertheless I managed to take that content I created yesterday and put up the site in this new niche.  I'm planning on putting up around 20 more sites in this niche as thats how many keywords I've found thus far that seem decent.
It seems like a bunch of my sites in my main sniper niche that had been hovering between the bottom of page 1 and top of page 2 are now rising and getting more hops due to either time or more likely the UAW submissions that are going on…as a result, I've seen a SIGNIFICANT increase in the number of hops registered for today.  Clickbank for some reason doesn't count the end of the day until 3am ES and because I'm going to bed a bit earlier these days, i won't be able to give you the exact hops or even sales for the day(if more by chance come in).  But I can tell you that last I checked, my total hops for the day was *511*!
It's crazy!  Back on April 6th or so, near when I started this site I had only about 90 hops for the day, I've now increased that number 5x in 1 month!
By the way, today was another insane day for sales, I got 4 Clickbank sales for a total of $96.10!  2 of those sales came from 1 of my 4 sites in the main sniper site niche that targetted a product name as the keyword…that site is ranking #3 on page#2 of Google, it's only gotten 2 hops yet it has gotten 1 person buying both the regular item and the upsell (hence the 2 sales).
Man, I'm just blown away by how easy it is to get hops with this sniper method…
Earnings For Today: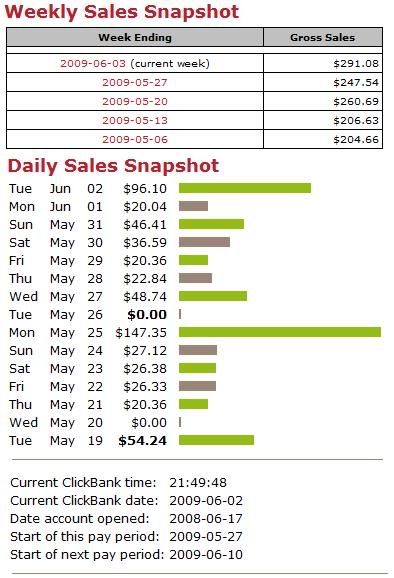 $96.10 in CB Sales – 2 Sales for a sniper site in the main sniper site niche (combined total = $49.96), 1 sale for Site#1 = $26.38 and one sale for a sniper site that has been ranked #1 for the last few days = $19.38 … This sniper site is getting 10-15 hops a day, today it got 18 hops out of 56 visits(according to AWStats)  ..this same site got a sale 2 days ago as well.
Adsense = $6.16
Total for the day = $102.26
I'll report tomorrow on the total number of hops/sales for today if it changes as it's not yet the end of the day
-Mike
Mail this post