Day 287 – Scrapebox Runs + $200 Pt.IV
It seems like my Clickbank sales have picked up…the last few days have been pretty good, you can see the progress that's been made in CB by comparing these screenshots..
Crappy sales since mid Jan: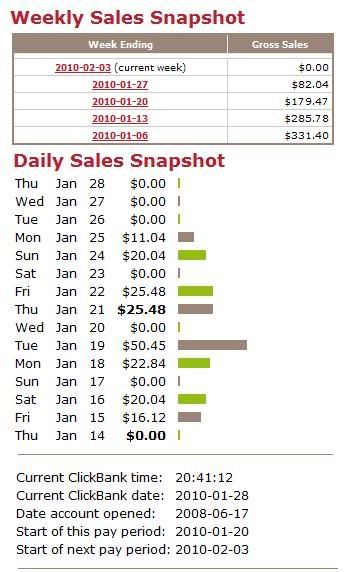 Improved sales: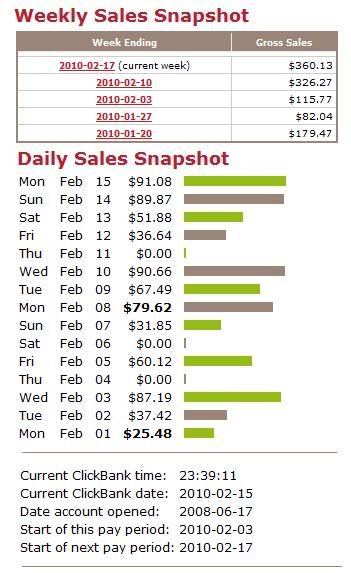 Also today is the 2nd day in a row where I've made over $200 and it's the 4th time I've broken the $200 barrier! I'll cut to the earnings:
Earnings For Today:
CB = $91.08 – 3 CB sniper sales, 1 authority site sale
Hops = 163
Adsense = $115.80
1 UAW sale = $26.80 (thanks Edwin :>)
Total = $233.68
Now aside from this, I spent the day experimenting with Scrapebox..
Test #1
One thing I did was run the Scrapebox Rapid Indexer add-on on 15 of my sites.  10 of the sites were from 2 days ago when I put up 10 sites in 1 day and the other 5 are the 5 sites I put up before that.
This feature in Scrapebox basically executes queries with certain sites that results in additional backlinks.  Ex: running a query via alexa on a website or via quantcast will result in a backlink…there are several other websites where you can run queries on a site and in so doing, give it a backlink and this helps to not only get extra backlinks, but also to quickly index a new site apparently…
Sites #1-10(the last 10 sites I made in 1 day) were not indexed so we'll see what happens there.  The remaing sites, 11-15 are indexed but are showing 0 backlinks.
We'll see what happens..
Test #2
Another test I did was to run Scrapebox on 10 of my adsense snipers…I didn't pick my top adsense snipers but not my worst either, I picked some that were doing fairly decently.
These sites were different from the ones used in Test#1 BTW.
For 9/10 of the runs I submitted the comments to WordPress blogs, for the other 1, I submitted it to Blogengine blogs:
Site#1 (backlinks = 35/pg1 #5) – (327 success/56 failed)
Site#2 (backlinks = 35/pg1 #7) – (332 success / 59 failed)
Site#3 (backlinks = 31/pg1 #6) – (319/31)
Site#4 (backlinks = 6/pg1 #8) – (330/67)
Site#5 (backlinks = 22/not ranking) – (330/56)
Site#6 (backlinks = 20/pg1 #5) –  (171/152)
Site #7 (backlinks = 18/pg 4 #2) – (240/36)
Site #8 (backlinks = 20/pg 1 #3) – (338/46)
Site #9 (backlinks = 18/pg 2 #3) –  (blog engine submission) (180 success/109 failed)
Site #10 (backlinks = 23/pg 2 #1) – (304/22)
Will be interesting to see what happens..
-Mike
Mail this post