Day 271 – Adsense Sniper #150 + Adsense Milestone!
Wow…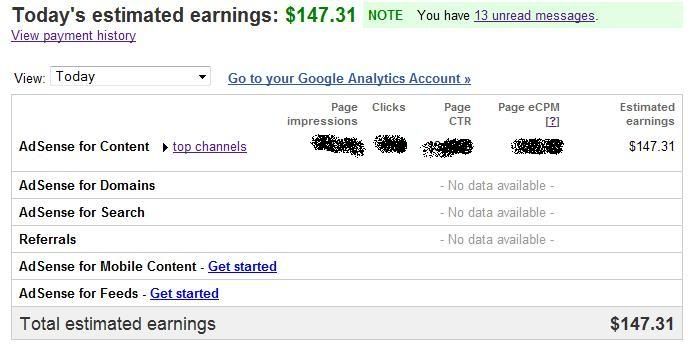 $147.31! I actually made $147.41 for the day after this was taken…crazyness!
I had a small # of my sites really perform well today which resulted in this huge bump in income… will be interesting to see what happens in the following days, the eCPM was a bit higher than usual today.
When I checked my adsense around 12 noon it was already at $50, then an hour later it was $60 something, then another hour, 70 something, then 80 something, 90 something…it was climbing pretty fast by the hour.  I'm used to it being $50-60 by 5, but this time around it was $90-100 at the same time.
It's interesting when you have spikes like this, you just NEVER expect them, they always happen so suddenly!  I remember I couldn't believe it just a few days ago when I hit $100 and if you had told me that by the end of the month I'd have hit $147, that would have seemed crazy at the time..Amazing how much progress can be made when you really go all out outsourcing this thing. :>
Other than this, I got another adsense sniper done bringing me up to 150 total…I also did some keyword research for 7 of my domains to get 4 inner keywords for each of them…I then took that and assigned it to one of my new writers who just finished 5 trial articles for them to start on this Monday..
I'm still waiting on the 5 articles from one of my other new writers and there is another writer who sent an email but forgot to attach their 5 articles..
As far as Scrapebox is concerned, I've noticed that my backlinks are continuing to increase.  Here is the progression on a day by day basis:
Site #1 = 12 backlinks – 14 – 22 – 45!
Site #2 = 29 backlinks – 35 – 37 – 47!
Site #3 = 17 backlinks – 18 – 20 – 20
Site #4 = 0 backlinks – 14 – 18 – 18
Site #5 = 1 backlink – 1 – 5 – 5
So with very little time invested…in just a couple days I took 1 site from 12 to 45 backlinks another from 29 to 47 and one from 0 to 18, sweet! I'm going to have to run this on some of my adsense snipers sometime…could be great for getting inner pages ranking.
Earnings For Today:
CB = $16.61
Hops = 173

Adsense = $147.41
XFactor Sale = $30.80 (thank you :>)
Total = $194.82

-Mike
Mail this post