Day 269 – Scrapebox Runs
As usual, busy with condo stuff and in the mean time trying to stick in some IM work…One of the things I did today was hire on 3 new people to do some trial articles…I've had 2 of them get back to me so far, we'll see how well they fare.
One of my regular writers who is going to be off on vacation is now writing 15 articles/week for me rather than 35, and the other writer who had the Internet issues is still having trouble so I really need to get these new outsourcers up and working on my content so I can start pumping out sites again.
Besides that, I decided to put my proxies to use today to see if I can help boost up my CB sites which are performing abysmally…if you read my last comment though, you'll see that apparently it's not due to lack of hops, but due to people just not buying for some reason: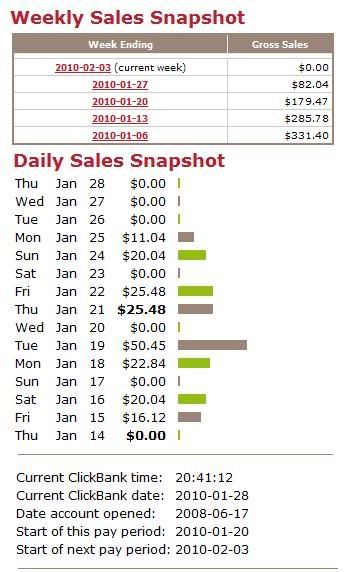 Anyway, I decided to run Scrapebox on 5 of my Clickbank sites that needed a boost..I didn't do any trial/practice runs on sites I don't care about, I just went right for the sites that needed it because after seeing the above screenshot, I just didn't care(the sites were all over 6 months old btw)…here were the results:
1.  Run on 1st site
-harvested 400 sites to backlink
-after removing duplicate domains, got down to 274
-submitted using 10 exclusive proxies, 204 succeeded, 70 failed.
-Did a slower resubmit via the browser submit option which was available for 46 of the 70 failed submits, 26 succeeded here, 20 failed.
-Total = 235 succeeded / 39 failed = 83% success rate
2.  Run on 2nd site
-600 harvested
-187 after duplicates removed
-130 succeeded / 57 failed
-After browser re-submit = 154 succeeded / 33 failed = 78.6% success rate
3.  Run on 3rd site
-600 harvested
-161 after duplicates removed
-108 succeeded / 53 failed
-After browser re-submit = 127 succeeded / 34 failed = 73.3% success rate
4.  Run on 4th site
-600 harvested
-146 after duplicates removed
-91 succeeded / 55 failed
-After browser re-submit = 114 success / 32 failed = 72% success rate
5.  Run on 5th site
-600 harvested
-166 after duplicates removed
-111 succeeded / 55 failed
-After browser re-submit = 134 succeeded/ 32 failed = 76.2% success rate
I recorded the positions of the sites in the search engines for their keywords and the # of backlinks they had.  In the submissions, I made some of them under regular names and others were done where the name = my keyword, so I'll see how that turns out.
Earnings For Today:
CB = $0
hops = 163
Adsense = $85.15
-Mike
Mail this post