Day 263 – 7 UAW Submissions + It's Over 100 Again

My kind of funny
Not too much done today, I got 7 more UAW submissions done…I'll get the last 5 done tomorrow.  Once I've got that all done I'm going to make a list of my best sites to backlink up again.
And now, the 4th day in a row above $95 and the 2nd day in a row above $100: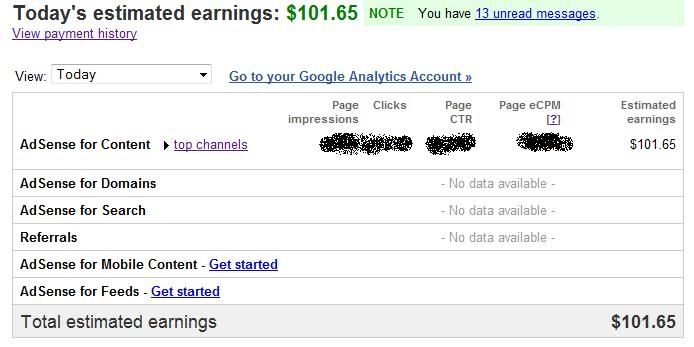 One of my ghostwriters has been having power issues the last 2 days (I know, it's hard to tell when it's for real, but in this case it seems to be as she's been on target every other day).  So hopefully I'll be back to putting up 2 sites a day soon.
Another thing I'll need to do is find inner page keywords for the 14 sites I'll be sending out for my outsourcers to work on come Monday, if they're both ready for them.  Delays happen, even when you've found good resources!
Anyway, I'm looking forward to seeing the results from my latest backlinking efforts..
Earnings For Today:
CB = $25.48
Hops = 174
Adsense = $101.65
1 XFactor sale = $30.80 (Thanks :>)
Total = $157.93
-Mike
Mail this post