Day 253 – Adsense Sniper #130 & #131 + Income Pics
I Found out that one of the sites I was about to put up didn't have the nameservers pointed correctly so that kind of delayed me a bit, going to have to wait 'till tomorrow to develop that one..I still managed to get 2 sites up as one of my outsourcers has lately been doing 10 articles a day.
That also brings me to another point, I'm running out of keywords for new sites…I found 3 new ones, but I'm going to have to find a lot more soon if I want to keep pumping out new sites(which I do).  I want to keep building new sites until I reach at least a $100/day average in adsense as building a bunch of sites and then backlinking them up is the only sure-fire way I know how to increase my income…I'm not as certain about building multi-page sites over 5 pages so I'd rather keep that as a secondary task..
I do however have 1 or 2 other outsourcers at the moment I'm putting through the 5 article trials to see if they are reliable, and if I find another person I can continue to pump out 2 sites a day while at the same time build up content on older sites.
It seems I'm at a solid $80/day, here's a look at how things have progressed lately (BLS = Backlink Solutions):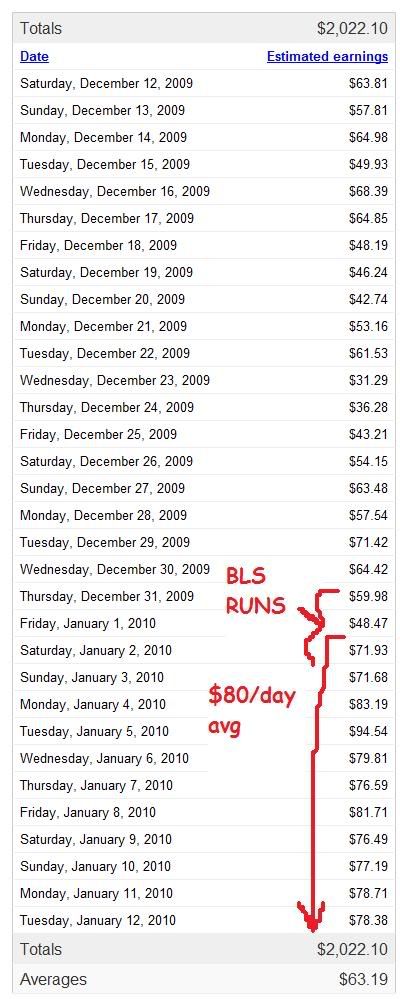 It's an avg of $63.19 from Dec 12th – Jan 12th, however after the BLS runs, from Jan 2nd to Jan 12th it's $79.11.
I've still got to do a run of UAW on sites 100+ at some point…
Earnings For Today:
CB = $50.96 – 2 CB sniper sales (CB is back at around $300/week rather than $200 or even less…at it's peak, I used to get $400-450/week)
Hops = 204
Adsense = $78.38
Total = $129.34
-Mike
Mail this post