Day 218 – Adsense Sniper #91 & #92 + Free Sniper KW For You

lol @ 0:59
2 more adsense snipers done, 19 more to go…
I thought I'd take the time to go over a keyword with you, an example keyword that I would see as being fit for going and building an adsense sniper on…
"Dickies Bag"
1st in analyzing this I would check out Micro Niche Finder…this is what that shows us:
2,900 exact searches … check! (it's over an absolute minimum of 2,400…. 2,900 + is always preferred though)
22.4k competition in quotes…. check! (This isn't that important a metric to be honest…it's a good indicator that things might turn out well in further analysis as it's below 30k, but even if this were 100k, it could still be a go depending on what we see on the first page of competition for the keyword, that is the true litmis test).
$2.37 CPC … check! This is a decent CPC…if the CPC is $1 – $1.50, I will check it in Spyfu and see what the minimum value is.  If the minimum value is around $0.44, then I will go for it..although at times if the exact searches is 3k+ I may even go with $0.40.  In this case, "dickies bag" is $0.64 – $2.11, nice… there are 6 advertisers here, also nice, but NOT NECESSARY.  As I've mentioned before, I have top earners with N/A showing for advertisers or keywords that don't even register any info on Spyfu!
Strength of Competition(SOC) = 196(yellow) …this is a yellow flag, but this is still WELL within the range of being takable DEPENDING upon the first page of competition.. even if this was red and around 500 or 1k(at times), it may still be possible to take if the first page competition is weak.
OK, so everything checks out here…so now what needs to happen is you need to do a Google search on this keyword and hit "refresh" to load up SEO For Firefox and see what that brings up for the Page Rank of the sites on page 1…
I scroll down as each page rank pops up down the page and if I see 2-3 PR N/A's or PR 0's and if they have less than 30 backlinks, preferably none or less than 10, things are looking good…
So we see from this that we're not going to take position #1, which is fine, as long as we can rank somewhere on page 1 that's all that matters…we skip the PR1 at this time in our perusal as we're looking for easier targets…then we see the PR N/A but it's for an image ranking, so we ignore that..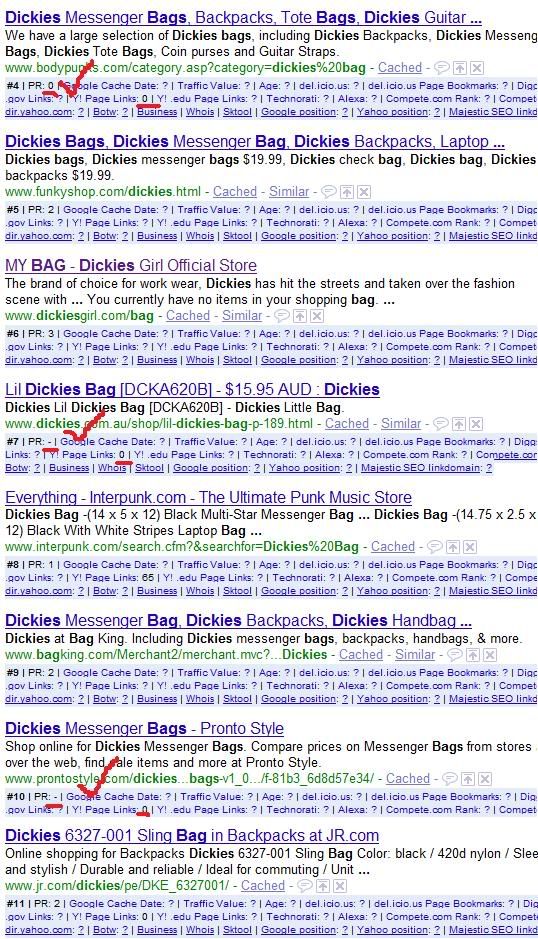 Continuing down the list we see a PR 0 and 2 PR N/A's…nice.  We then go to each of them and click on the "Y! Page Links" to find out the Yahoo backlinks each has, they are all at 0, perfect…this keyword is a GO!
By the way, this is a keyword where currently the .com, .org AND .net are all open!  and I would say it's possible for 2 sniper sites to rank on this keyword and share page 1(it's rare that 3 take page 1).  Now I wouldn't advise going after this keyword because its a brand name keyword and it's dominated by site's that belong to the company that makes Dickies bags (yakpak.com & dickies.com & dickiesgirl.com) so you'd really be on the wire, but if you don't care about that, this would be easy rankings.
Now things aren't always this easy, I'll see if I can go over other keywords where things aren't so cut and dry…sometimes you might find a keyword where there are almost all PR1's and just 1 PR 0…in that case you don't have 2-3 PR 0's or N/A's, BUT the PR1's may be sufficiently weak that even if you don't get that PR 0's spot, you can still take a PR1.  This is why there are no hard cut rules and you NEED to develop your intuition.
Now I don't get keyword selection right ALL the time, as I don't always come across keywords like this where it's pretty much a sure thing…sometimes I have keywords that seem like I COULD have a chance and just go for them to see what happens…in the end, I get about 50% of my sites ranking on page 1 with just RSS/Bookmarking/Digg alone…UAW runs just push them further up page 1.
This keyword though looks like an easy page 1, this also goes in the face of not going after 2 keyword domains, this is one which is clearly takable…Anyone planning on snatching this one up? :>
Earnings For Today:
CB = $20.62
Hops = 158
Adsense = $72.63
Total = $93.25
-Mike
Mail this post