Day 217 – Adsense Sniper #90 + Adsense Milestone Again!

Zach Galifianakis, Tim Heidecker and Eric Wareheim were commissioned by Absolut Vodka to make a film for their website. They were told they could do anything they wanted as long as they mentioned the product…this was the end result.
Wow… I just can't believe where my income has been going the last few days….
Just a few days ago on Nov 30th I had my highest day which was $67.75, then I had another highest day on Dec 2nd at $77.62 and now Dec 7th at $82.01!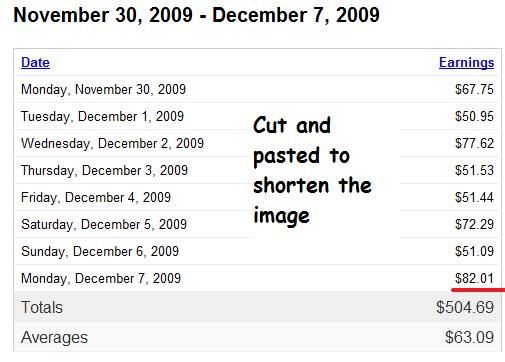 It's just INSANE how fast it is growing… as I've stated before, it's a combination of me making more money from some of my new sites and also from some of my old sites starting to earn more by ranking higher or for more long tail keywords…a lot of the time the long tail keywords are variations of the keywords I created my inner pages on, the main long tail variations end up pulling in 30, 20, 18 or 10 extra visitors/month and my top sites usually have 1 or 2 of those..then there are of course a few that bring in 5 or so and plenty that are at 1 or 2/month.
I'm feeling pretty good about where my income is headed right now to say the least :>  I don't want to jinx anything, but I think if things continue as they are, I could be at $100/day of adsense within two months.
The income is pretty stable on a day to day basis.. I like how there are no serious dips in the income.  In the last few days as my income has reached an avg of $50/day and now $60/day I've seen even more of my newly created sites start popping up in the middle range $1-3 and as of today it now looks like I have 9 sites that are earning over that and probably several more with the potential to earn over that amount on some days.
I hope it's not premature, but at the moment after seeing these results and taking into consideration what my actions have been to achieve them, I feel I've figured out the Adsense Sniping system.
I feel that now it's just a matter of duplication, as long as I keep doing this, as long as I can keep finding good keywords, and pumping out sites at a decent pace, there really isn't a roof on how much I can make…and if it takes building 100 sites(or thereabouts) to make $100/day, which is what its looking like now, I'd say that's a good trade/off.
In other news, I created another adsense sniper and also did a bit of research into my top performing sites and took note of some keywords that were getting traffic that I could go back and make additional posts on to potentially get 2 pages ranking on page 1 and thus more traffic(indented rankings).  Whenever I can, I'll write up one of these as an extra article for the day so I can start building up some additional content for these sites.
Earnings For Today:
CB = $22.84 – Authority Site #3 sale
Hops = 211
Adsense = $82.01
Mail this post