Day 215 – Adsense Sniper #87 & Looking Into Outsourcing Writing + Tips

1st popping battle on TV: Robert Muraine vs Phillip Chbeeb(Pacman)
I've been only getting 1 adsense sniper done each day as of late as I've been filling my plate with a few other tasks…today I spent a bit of time writing up what I want my posting to look like when I post looking for writers…I'm also reading up on it quite a bit so that there won't be any surprises, dont' want to have any bad experiences here and want to make sure I'm doing this right, right out the gate.
I've been looking at Get A Freelancer and ODesk..not sure which I'm going to try at this point…
I think when outsourcing I'll look to hire several people though as opposed to just 1 as apparently finding reliable people who will deliver on time is an issue and that can be mitigated by divying up the workload.
Still doing some research on how I'm going to handle my applications once they come in…Can't rely on their samples as apparently a lot of that is just forged BS, so I might have to work in having them re-write a portion of one of my own articles to judge their proficiency.
Even though this is impacting how many sites I get out each day, and my goal of reaching $100/day, I think for the overall picture here, it will be good to take a bit of time to figure out this outsourcing…If I can find people that can at the very least give me 5 pages of content a day, I'll be able to churn out sites quite a bit faster.
Now as far as my adsense income is concerned, today I noticed one of my sites got a MASSIVE click.  It seems like I've got 4 or so sites now that are getting some large clicks and that this coupled with the return of my #1 adsense site has brought me up to a new income level  since the 29th of November.
My average income from Nov 29th – Dec 5th is $60.93/day, comparing that to Oct 29th – Nov 5th, at that time it was an average of $32.32/day.  Here's a look at how my adsense income has been trending again, note what's been happening since the 29th when I got my biggest earning adsense site back(I cut and pasted the totals column over):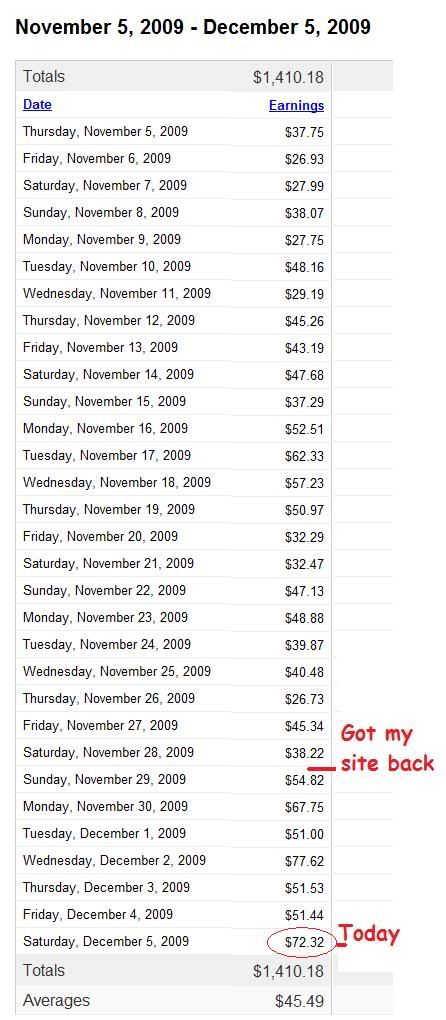 As you can see income was impacted quite a bit by the return of that site, and those days where I had $67, $77 and today where I made $72.32, these were all days where I some really big clicks.
FYI these sites targetted kw's where the Spyfu was somewhere in the range of $0.75 – $4.00 and the CPC's were generally $3+($3.75, $4.50 although 1 was $2.25).  Normally I expect the big clicks from CPC of $3+, but that goes to show you you can't just look at CPC, but you also have to look at Spyfu.  In Spyfu that kw was $0.75 – $2.75 which is a nice high range for something showing $2.25CPC in the Google Keyword Research Tool …it also showed 5 advertisers (BTW, this leads me to another TIP…seeing a lot of advertisers is nice, although not necessary, some of my best keywords have shown NO advertisers in Spyfu, and some even had no results for the kw!)
I also noticed that recently I've been having a lot of $100 days I hadn't been adding up CB and Adsense but in the last 5 days I've had 4 $100 days:
Dec 1st = $66.39cb + 51 = $117.39
Dec 2nd = $27.74cb + 77.62 = $105.36
Dec 3rd = $67.57cb + 51.53 = $119.10
Dec 4th = $26.38cb + 51.44 = $77.82
Dec 5th = $33.22cb + 72.32 = $105.54
I still feel I can only rely on Clickbank bringing in 1k/month at this point rather than 1.5-1.8k though.
Earnings For Today:
CB = $33.22 – 2 sniper sales
Hops = 197(new analytics)
Adsense = $72.32
-Mike
Mail this post