Day 113 – SENuke Day 2 + Tony Robbins Frank Kern John Reese
For the video guys, check out this video of Tony Robbins interviewing Internet Marketers Frank Kern and John Reese on the traits and mindset needed to take massive action on a daily basis and develop an extremely profitable online business:
http://tonyrobbinstraining.com/320/interview-with-frank-kern-and-john-reese/
This is a MUST see guys, it will really help you out!  Seeing as how I've switched from my usual CB snipers to a new money making method I'm not as familiar with, it's helped me, and I'll be watching that more than once.
—
Now, the last time I used SENuke for building Web 2.0 properties was probably back in Feb-March, not quite sure, around there though….I knew that SENuke was good for boosting pages up in ranking but even then I don't think I realized just how powerful tihs program can be.
Now that I have a bit more IM experience, and now that I've just run it for the first time in a while, I'm realizing how this is going to seriously increase my productivity.  Last night I created about 500 profiles in the "profile nuke" section…These are the profiles that you'll find in say Angela's backlinks where you can get yourself a bunch of easy high PR backlinks.  A lot of these sites have captchas, but SENuke has the ability to let you pay $7-8 for 1000 captchas at some captcha solving sites and have that hooked into the program so all you have to do is set it and forget it….with $8 spent, I woke up to almost all of those 500 accounts created…I then went and had all of the accounts automatically confirmed via SENuke.
I'll need to wait a while for those profiles to age so that my username drops from the "recently added" listings before I add links to all those profiles though, but that feature alone seems pretty damn powerful.
In addition to that, today I did 1 submission.  Things went a bit slow the first time around as I was getting used to this new version and all the new web properties.  There's now an option in SENuke to linkwheel all the properties together, so you can have each Web 2.0 property linking to the next one, over and over forming a loop spreading link juice, it's all done automatically too.
When I tried it though I had a few problems and the linking didn't work out as I anticipated…partly due to the fact that I cancelled a run then began it again.  Additionally I made the mistake of not linking to my main adsense sniper site at each Web 2.0 property.. I was so focused on getting the link wheel working I forgot to do it!  So..I had to go back and manually add that to about 18 different Web 2.0 sites..it took me 45 minutes to login to each one and put in the anchor text O_o
After having done that manual work though, you can really appreciate how much time this program saves you…I mean, today using an article with spin syntax, 30% unique, I was able to submit to 18 Web 2.0 sites and interlink them all as well.  I still haven't finished submitting to all the article directories either(about 10 of them) which I'll do another day.
After I did these submissions, I then went and bookmarked about 5 of the Web 2.0 pages to the available bookmarking sites…Over the next day or 2 I'll bookmark the rest in batches of 5, I just don't want to raise any flags by bookmarking too much.
Additionally, I submitted only 1/2 of my RSS feeds, I'll do the other half tomorrow.
BTW, that paid captcha solving is only for the profile nuke, when you're creating Web 2.0 sites you get free captcha solving from the SENuke team itself…they have people who fill out the captcha's for you within 15 seconds which is pretty cool…
Well, now that I have a bit more experience with IM and more motivation and drive, I feel I may be able to make better use of this program than I did before…Now when I first used this program, I used it mainly on one of my authority sites to boost pages from page #3-2 of Google up to page #1…this resulted in me getting an extra $300/month.  I ended up stopping using it because I didn't know how else to use it, but now with a bit more experience, I know of many ways I can implement this.
I only hope that by implementing this extensively I see an increase in my income which justifies the high cost of the program…actually, I'm hoping for a lot more than just justifying the cost of the program..I'm hoping this will be the key to earning me thousands rather than hundreds like the last time I used it.
Anyways, in addition to running SENuke, I also wrote up a new article in spun syntax to be used as a submission for one of my other Adsense sniper sites…In a short while I should be comfortable enough with the system to do several runs a day.
By the way, this link wheeling doesn't just stop with 1 wheel of Web 2.0 sites around your money site, there are many different techniques out there which show you how to boost the power of your network by adding additional "sub wheels"…like for example, if you have a Squidoo page as a part of your initial link wheel, you can then do another linkwheel which links to that Squidoo page mainly, then another sub wheel which links to just the WordPress site on your first linkwheel….
I'm still not sure which linkwheel strategy I'm going to go with..but I'll be adding 1 ore more layers to the first link wheel, thats for sure, in addition to doing the article submissions too…My only concern is getting my main site sandboxed, that's what I'm going to have to watch out for.
Earnings For Today:
My income seems to be going down as of late.. I've never had my income dip below $400-500 in a long while, and it's now gone to $391 and now $288 for the week…I believe this is linked to me having my sites knocked out for 3 of my kw's (2 sites for each kw knocked out…I'll be revisiting these sites with SENuke though)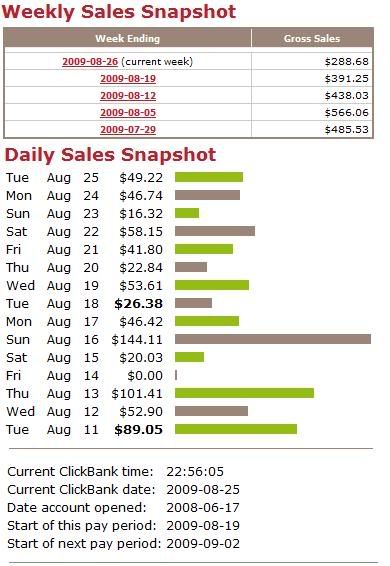 $49.22 – 1 Sale for Site#3 and 1 sniper site sale
Adsense = $13.43 (Hubs = $3.67, Infobarrel = $3.24) + 2 of my adsense snipers contributed to this as well
Hops = 290(new) / 563(old)
-Mike
Mail this post